When it comes to outsourcing the IT part of some business there is always a great deal of questions popping up: where to go, which peculiarities to consider, is lower cost always better in the long run, etc.?
In this article, we would like to draw your attention to Ukraine. Which has not only successfully held the world's famous sports event, but is also a well-known destination for IT outsourcing in Eastern Europe. What makes it one of the top popular locations for multiple businesses to bring their IT over?
We are almost sure that you didn't even realize that Ukraine has already passed the status of an agrarian country, which exports only low margin goods such as grain, steel, ore or food. There is a fast-growing industry of IT-outsource in Ukraine, which attracts thousands of investors and clients from all over the world.
So, why should you choose Ukrainian IT-outsourcing companies?
Here are 10 major reasons inducing businessmen to outsource software development to this particular country:
Ukrainian IT clusters
Since IT is the top revenue-generating industry in the country and the fastest-growing one, too – a lot of effort is being put to further boost its advancement. In fact, Ukrainian IT businesses, often backed by the government, invest heavily in IT clusters in the country's strategic locations. Not only this gets more eyes on the industry at large. It also helps to uncover the best talent that will grow to become a valuable addition to Ukrainian IT companies.
Clusters are tasked with the important job of carrying out sweeping changes in the IT environment of their respective locations. Some of the real-life examples include advancing IT education across high schools and colleges in Ukraine and promoting the idea of pursuing a career in programming.
Connect with the world-class talent
When signing up with a software development company in Ukraine, you get to benefit from some of the most talented IT professionals in the world. Leading brands have already tapped into this pool of talent which is estimated at 90,000 experts nationwide. Moreover, their number is expected to grow to 200,000 by 2020.
Microsoft, IBM, Samsung, Cisco, Boeing, and Oracle have launched their R&D centers in the country. According to statistics, 19% of IT staff in Ukraine have been working in the industry for 7+ years.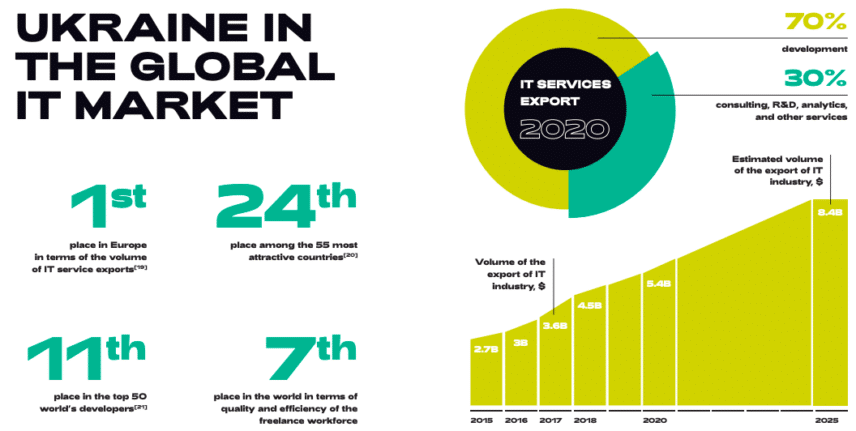 Business-friendly pricing
While offering first-class IT expertise, Ukrainian developers charge less than their US and Western Europe counterparts. With the IT market at large being so competitive. It's going to be easy to find top talent in Ukraine to power your unique business needs without breaking your budget.
Great education and culture
Developers in Ukraine benefit from the country's leading technical universities. They can be characterized as problem solvers, used to cracking complex tech tasks and finding an optimal solution. They are also able to go the extra mile to conduct their research and design a genuinely tailored solution for their clients.
As well as that, Ukrainian staff is culturally close with their clients from the US and the rest of Europe, sharing the same work values. Teamwork and commitment to providing exceptional support for clients' needs is something IT companies in Ukraine are keen to foster.
Rich and versatile experience
Since most software developers in Ukraine are targeting foreign markets. They have impressive experience of building highly customized solutions for a variety of markets and countries. Their combined body of expertise means granular support for your business needs regardless of your background, which is something not all IT outsourcing companies can offer.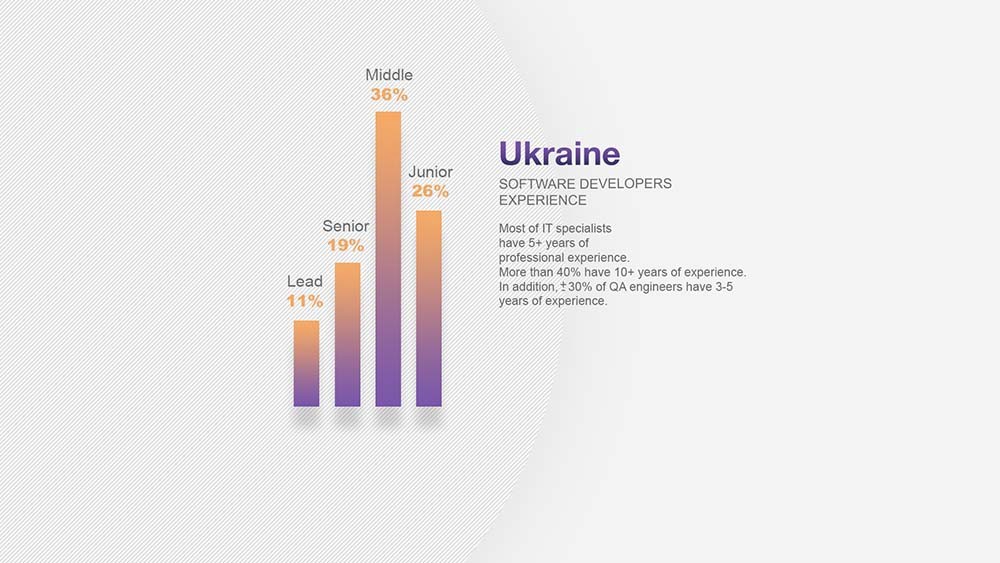 Good communication
In terms of Internet connection, Ukraine offers solid infrastructure while also having great quality and connectivity. In terms of language, a majority of Ukrainian developers speak English which guarantees that both remote IT staff and clients are always on the same page.
One of the fastest growing IT industries globally
Whatever your particular needs are, there is a good chance you are going to solve them in Ukraine. Its export of IT services totaled some $3.7 billion in 2017, outgrowing its 2016 indicator by 33%.
All in all, there are many perks to outsourcing the IT needs and choosing Ukraine as a go-to destination to do so.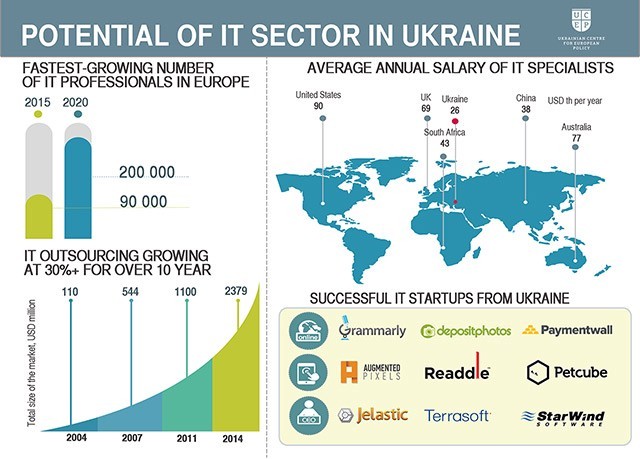 High-quality services
Even despite the fact that Ukrainian education is not very reputable in other countries, especially in the US or Western Europe, Ukrainian IT specialists are really smart and skillful. Most of them are high-qualified professionals who have already gained enough experience and knowledge to solve the most difficult problems. In most cases, IT specialists in Ukraine start working from the very beginning of their studies at the university. That's why they get real experience instead of boring and obsolete theoretical knowledge.
Competitive rates
Prices in Ukraine are significantly lower than in other countries in Europe. Even despite the fact that IT-outsourcing services in Ukraine are cheaper, IT-specialists earn significantly more than any other employees in Ukraine. In addition, even reputable companies, which have already proven their reliability in other countries, provide cheaper services in order to compete with other companies.
That's why this market is extremely profitable for entrepreneurs from the UK, US, Canada, Germany, and other well-developed countries. In addition, the Ukrainian government does everything possible to make business regulation simple. So, it's a good idea to choose Ukraine for IT-outsourcing.
Project flexibility
Ukrainian IT-specialists are more flexible than their colleagues in other countries. These people understand that they have to carry out their tasks in time. That's why employees in Ukrainian IT companies are ready to overwork in order to perform tasks within tight time frame and stay competitive. Moreover, these employees are loyal dedicated. They will do everything possible to make your business more profitable.
It might sound a bit strange but the IT industry in Ukraine is growing really fast. There are a lot of people who say that this country may become a new Silicon Valley in Eastern Europe. That's why we decided to consider the main benefits of IT-outsourcing companies in Ukraine.

What is the main advantage of this market?
As you probably understand, skillful people are the most valuable resource in the IT industry. In most cases, companies spend 60-70% of their income on the salaries of their employees. The fact is that Ukraine has serious economic problems right now. That's why the salaries of IT specialists are significantly lower as well. However, their skills and desire to work can be even better, that's why investors from all over the world refer to Ukrainian IT-outsourcing companies in order to get the same level of services as in other countries but cheaper.
Ukrainian IT companies are ready for challenges
Ukrainian IT-specialists understand that they have to work hard in order to compete with other markets such as Belarus, Poland, India, and so on. That's why these professionals are hard-working and skillful. The majority of employees understand English and can communicate with their clients in English without problems. In addition, these people are hard-working and highly-motivated. Because they get salaries, which are bigger than four times than other specialists in Ukraine usually earn. According to a study, Ukrainian IT-employees also try to diversify their knowledge. That's why they can use different programming languages simultaneously and provide a comprehensive assortment of different services, including testing, coding, web or mobile development, and design.
Conclusion
Therefore, Ukraine has already proven its leading position in this market in Europe, that's why it's a very good idea to consider the IT outsourcing market in Ukraine more precisely and start cooperation with these professionals as soon as possible.