NERDZ LAB is a Ukrainian company, and we support Ukraine during this challenging time. Here's a short update on our main areas of work and the current state of operations in light of the recent Russian invasion.
Contents:

People first
We are doing our best to keep our employees out of harm's way and support them and their families in all possible ways. Our HQ is located in the western part of Ukraine.
Open continuous communication and support. We are in touch with everyone, helping them in any way we can depending on the situation and solving all requests individually.
Relocation. We helped our teammates in particularly dangerous areas to relocate to safer places in the western part of the country or abroad.
Psychological help. Our team members get psychological support if needed from 24/7 group chats to individual chats about their emotions, how to handle them, and information on how to get over stress and PTSD.
We keep hiring. 
Learn more about how we communicate during wartime and how the Scandinavian management model helps with this here.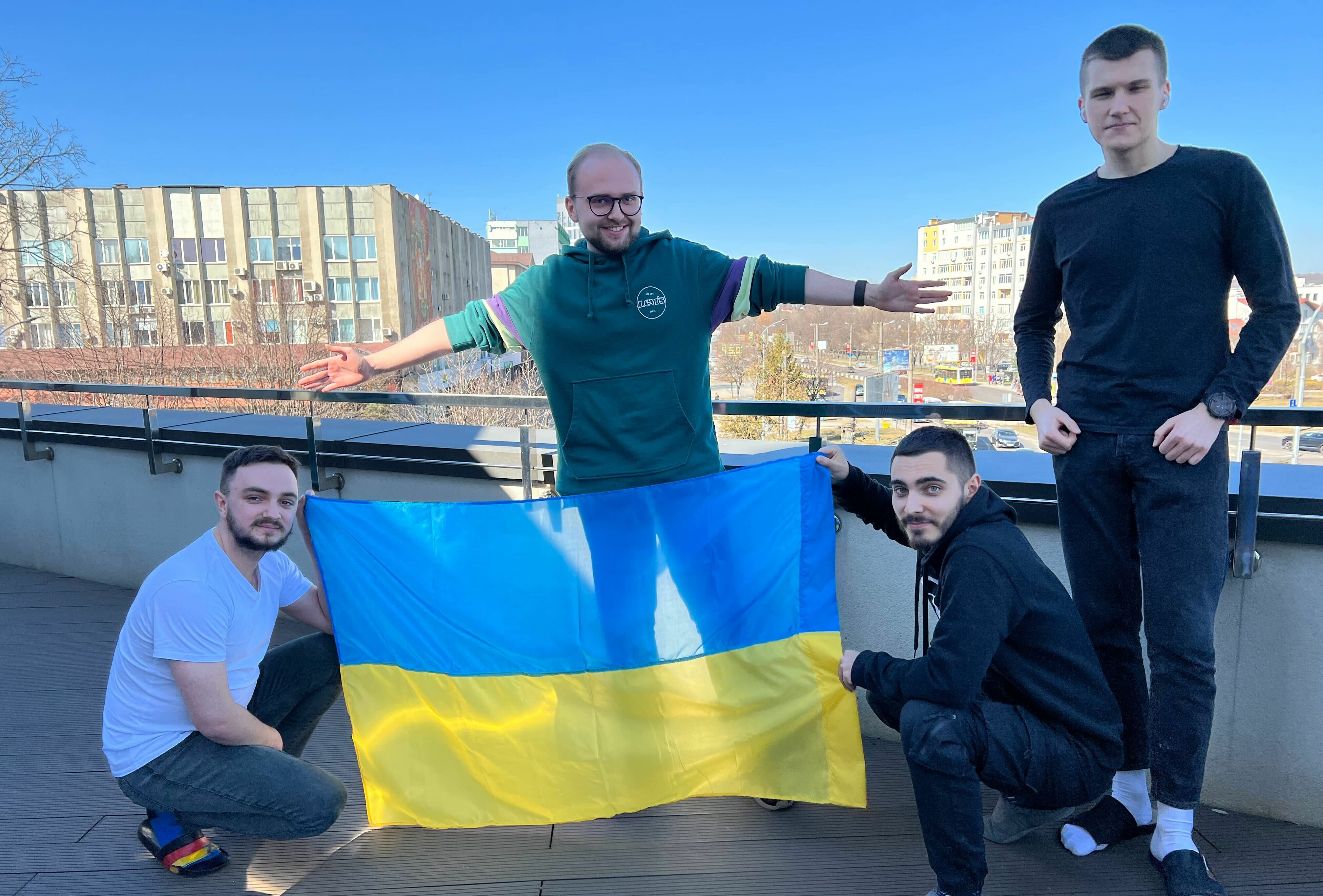 Operational stability
NERDZ LAB continues working and we are doing our best to fulfill our commitments to customers and partners. We are eager to support the economic growth of Ukraine and maintain the country's reputation as a reliable business partner.
Risk management. Thanks to timely strategic sessions and short-term planning we are able to fulfill our obligations and serve our clients.
Communication. We actively talk through all situations with team members and clients to ensure the stability of work.
Security measures and backup plans. In particular, in cooperation with the Lviv IT Cluster, we set up Starlink in our office as a backup for a smooth and reliable Internet connection for our team.
As of today, we are happy to say that all of our projects are running smoothly, and we are able to meet our obligations.
How we support Ukraine
We're not keeping quiet or standing aside. We are working, volunteering, and donating to support our country every day.
Temporarily displaced persons' support
Since the first days of the war, together with local charitable organizations we have been volunteering and helping financially support Ukrainians that have had to leave their homes due to the war.
Donations to the Armed Forces of Ukraine.
Besides regular financial support, we do our best to supply technical and protective equipment (like walkie-talkies, rangefinders, etc.) to those that are defending all of us on the front lines:
$10,000 was donated for the purchase of level 4 bulletproof vests (40 pieces).
Raised $3,300 and helped with the request to purchase a vehicle for the Ukrainian armed forces' artillery needs.
$2,500 was transferred to the 'Azov' regiment to help get them out of the blockade in Mariupol.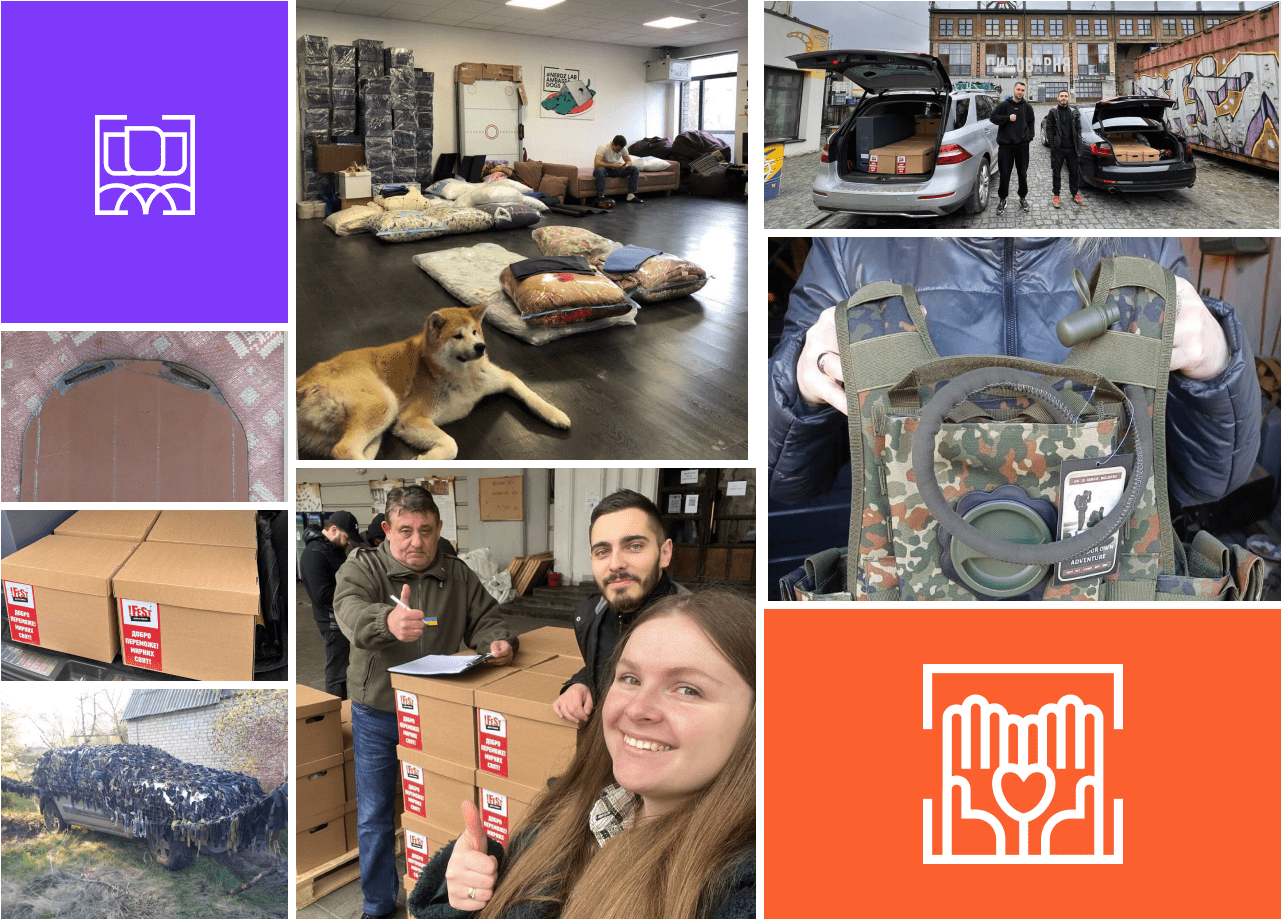 Own initiatives
We activated our activities and went public with our previously internal project Spokiy, a Ukrainian-language meditation app that provides psychological help to Ukrainians free of charge.
Using our expertise in ways that help the cause.
We especially appreciate it when we are approached with projects that support Ukraine. Here are a couple of our faves:
Recently, we helped our client inHype to develop a feature for an online charity auction. Through online streaming with famous Ukrainians, 5,000 euros have already been collected for aid to Ukraine. The collection continues.
Together with a client, our team is working on a project for refugees. It's a platform that brings together Ukrainians who have had to flee due to the war (and need housing or transport) with Europeans who are willing to help. There will also be much-needed information on nearby pharmacies, humanitarian and information help centers, etc.
If you are organizing such a project write to us. We are more than happy to help.
Appreciation for our clients
We want to thank our clients and partners for continuing our business partnerships and for all the support you provide to us and our fellow Ukrainians during these challenging times. Some of you have engaged personally and we really appreciate that and would like to give you a shout-out.
Summit Digital Marketing is engaged in the project 'Aid Ukraine Direct', a private project to deliver aid to Ukrainians where it is required most; feeding and supporting those who are in desperate need of help. We would also like to thank the founder of Summit Digital Marketing, Mike Crompton personally as he helped to obtain UK visas for Ukrainian refugees and helped to deliver 500 water filters to Kharkiv.
Andrew and George Bartons from the Shoreditch Design Studio accommodated Ukrainians.
TruConnect – collected and donated funds to `Come Back Alive`.
Every bit of support matters. We are honored to have your trust and the chance to work with you. Thank you!

How you can help
Stand with us and support Ukraine any way you can:
post on social media #StandWithUkraine
apply political pressure
send financial aid and supplies
work with Ukrainian businesses and Ukrainians. The support you give us is the support you give to the Ukrainian economy, helping us stay strong in the face of Russian aggression and help those in need.
Here is detailed information on how you can help in English.
We are thankful to all our friends, clients, and partners for their support and understanding. We will keep our operations running and continue doing what we do best.
Be brave like Ukraine!